Scientists found dozens of pieces of perforated snail shells dating from 142,000 to 150,000 years ago, most likely to make necklaces or bracelets.
People have worn necklaces, bracelets, earrings, and other types of jewelry since time immemorial. However, the discovery of dozens of jewelry beads made from sea snail shells in Bizmoune cave, western Morocco, shows that this practice appeared much earlier than scientists had thought. The new study was published in the journal Science Advances on September 22.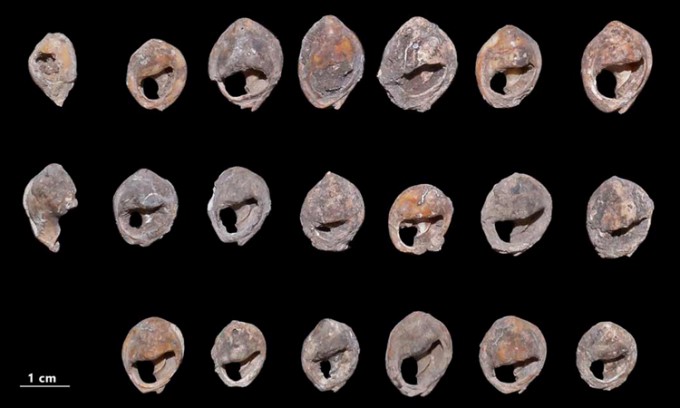 Anthropologist Steven Kuhn at the University of Arizona, in collaboration with researchers from Morocco's National Institute of Archaeological Sciences and Heritage, conducted excavations from 2014 to 2018 at Bizmoune Cave and found a total of 33 beads. jewelry made from seashells. They are 142,000 - 150,000 years old, making them the oldest jewelry ever discovered in the world.
The shell pieces are about 1 cm wide with a circular hole punched in the middle. They have traces of wear on the inside, meaning they may have been strung on a necklace or bracelet and have been used frequently. Kuhn said. "Beads could have been away for the ancients to express their identity through their clothing. They suggest this has been around for hundreds of thousands of years, and that humans were interested in communicating with groups. bigger than just family and close friends".