The woman's remains were buried in a stone tomb with rings, bracelets, and much large bronze jewelry. This was a sign of a rich person at that time.
Scientists discovered the stone tomb of a wealthy woman wearing bronze jewelry made between 2,700 years old and 2,900 years ago in Khakassia, southern Siberia, the Siberian Times reported on September 17. The tomb is only about 75 centimeters deep. The remains are placed on their backs with their heads facing southeast.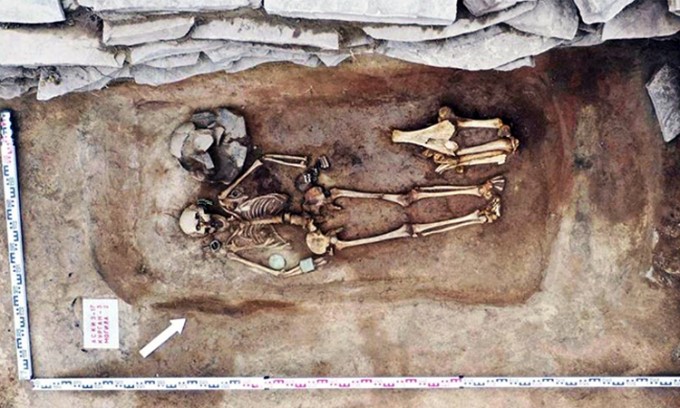 Near the woman's feet were a bronze knife and the shoulder and forelegs of a large animal. Meanwhile, a ceramic vase is placed right next to the head. The woman's wrist is wearing a large copper bracelet with a checkered decoration. The four left fingers also wear large rings, each with two pearl-shaped brass decorations.
On each side of the skull, there are three temple rings (a type of jewelry worn near the temples of women, usually made of base metal) and two pieces of copper decorated with triangles. Archaeologists also found a round copper disc 9 cm in diameter and 8 small copper buttons near the right elbow.
The woman belonged to the Karasuk (Kamennolozhsky) culture, characterized by her virtuosic skills in making high-quality bronze. The team of scientists believes that she did not wear this jewelry when she was alive. They were made by a skilled craftsman to follow her to the afterlife.