Company name: KIM HOAN SONXI MECHANICAL CO., LTD
Short name: SONXI
Company's logo
Business activities and products:
     Import & trade PVD plating technology machinery,
     Production of PVD plating machines,
     Manufacture of Jewelry,
     Plating processing,
KIM HOAN SONXI MECHANICAL CO., LTD was built in Xuyen A Industrial Park with:
Well located: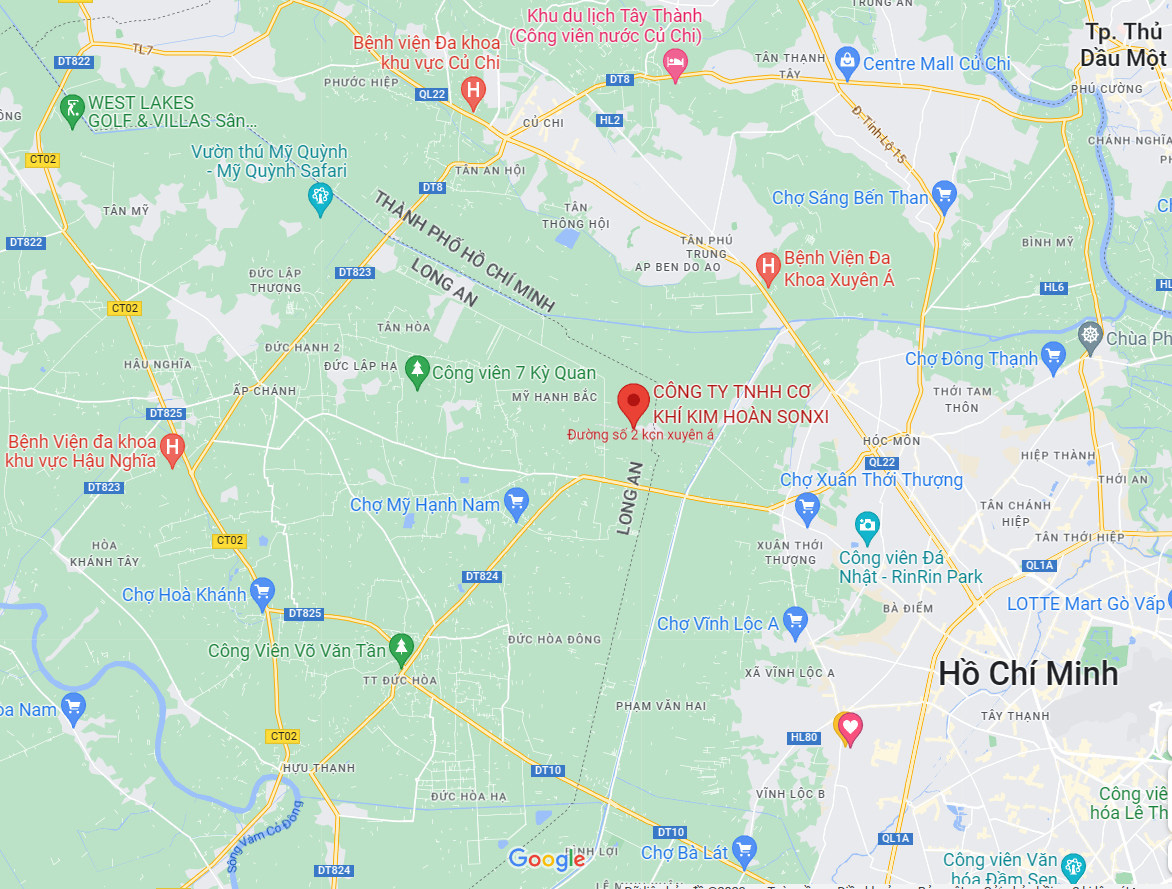 The location of Xuyen A industrial park is located in My Hanh Bac commune, Duc Hoa district of Long An province The location of the industrial park is very convenient, it is possible to move to many related locations and administrative areas
     8km from Duc Hoa Town,
     22 km from the center of Ho Chi Minh City,
     Connecting and 7 km from the Trans-Asia Highway,
     18km from Tan Son Nhat airport,
     25km from Tan Cang, 28km from Saigon port.
Technical infrastructure of Xuyen A industrial park
   The internal roads are all paved with asphalt, with the vehicles arranged at a reasonable distance twice. ensure easier mobility for large vehicles.
The medium voltage power system is widely distributed according to the national network leading to the fence of the factories to ensure the production process.
Large capacity on-site groundwater treatment system.
KIM HOAN SONXI MECHANICAL CO., LTD
Finance :
   Having strong financial potential: While many businesses are facing difficulties because of loan interest rates, and the Covid 19 pandemic, Kim Hoan Sonxi Mechanical Co., Ltd is still stable and expanding because its capital structure is quite safe. good financial autonomy. Proven by sustainable business profits.
Technology:
   Investing in modern, high-quality equipment and technology, the company always invests in importing and manufacturing modern and advanced machines from Japan, Korea, and Taiwan for production to meet market demand, business efficiency.
Human:
   Having a good leadership team, experienced and ambitious,
   A team of professional engineers, designers,
   In addition, the Company regularly organizes training courses and guidance from industry experts to improve working capacity and help employees complete their work most effectively.
The infrastructure :
   New and fully qualified infrastructure: including power supply system, clean water supply system of the industrial park, wastewater treatment system and telecommunications infrastructure and internal traffic system...
Big brand:
   Over 15 years of establishment and development Products of Kim Hoan Sonxi Mechanical Co., Ltd. have created a large brand name throughout the country and have expanded to the world market: USA, Taiwan, Korea, China...
   The product portfolio is diversified, the products are of high quality but the prices are lower than the imported products of the same type and have a large market share in Vietnam among the suppliers of the same product. Diversified distribution channels with the system Wholesale distribution for the domestic agent market, along with the best sales and customer service support, has made the company's product lines more and more trusted by consumers.
Supplier:
   The company's raw material sources include: imported and domestic raw materials, the company always actively sources input materials through building a sustainable relationship with suppliers.
Customer:
   There are many long-term traditional customers along with high potential customers and great demand. Wide distribution network, combining many modern and traditional distribution channels: extensive distribution and sales network of Co., Ltd. Sonxi Metallurgy is an essential factor leading to success in operations, allowing the company to capture a large number of customers, ensuring the introduction of new products.
Research and develop market trends:
   Market-oriented research and development capacity. Sonxi's product research and development department actively conducts research and cooperates with market research companies to understand domestic and international trends.
Address :
KIM HOAN SONXI MECHANICAL CO., LTD
Transaction office: 497/2 National Highway 1A, Binh Hung Hoa Ward, Binh Tan District, Ho Chi Minh City,Vietname
Factory: Lot LL 5A-LL6, Road No. 2, Xuyen A Industrial Park, My Hanh Bac Commune, Duc Hoa District, Long An Province, Vietname. 
            Phone: 028 66869909 - 0906396809, 0938596909, Zalo 0903024909.
            Email: sonxijewelry@gmail.com
            Web: sonxijewelry.com
Email: sonxicompany@gmail.com                      
Website: www.sonxi.vn
Branch:
226E/2 An Phu 17, An Phu Ward, Thuan An Town, Binh Duong
Tel: 0938596909-0909089709
................................. ................................. ..........................
              Lot C1-17, Road No. 3, Hoa Cam Industrial Park, Hoa Tho Tay Ward, Cam Le District, Da Nang City
  Tel: 02366289797-0905322099