SONXIJEWELRY PLATED JEWELRY MANUFACTURING COMPANY
About Sonxijewelry Plated Jewelry Manufacturing Company
   Formerly known as Jewelry Manufacturing Company,Sonxijewlry Plated Jewelry Manufacturing Company
was developed to meet the increasingly diverse jewelry needs and update the jewelry trends of
Vietnam and the world.Sonxijewelry Plated Jewelry Manufacturing Company is a total of Plated Jewelry
from design, production and sales. The company owns 3D processing technology,learned from leading
countries in the industry. jewelry production in the world such as France, Italy, Korea, USA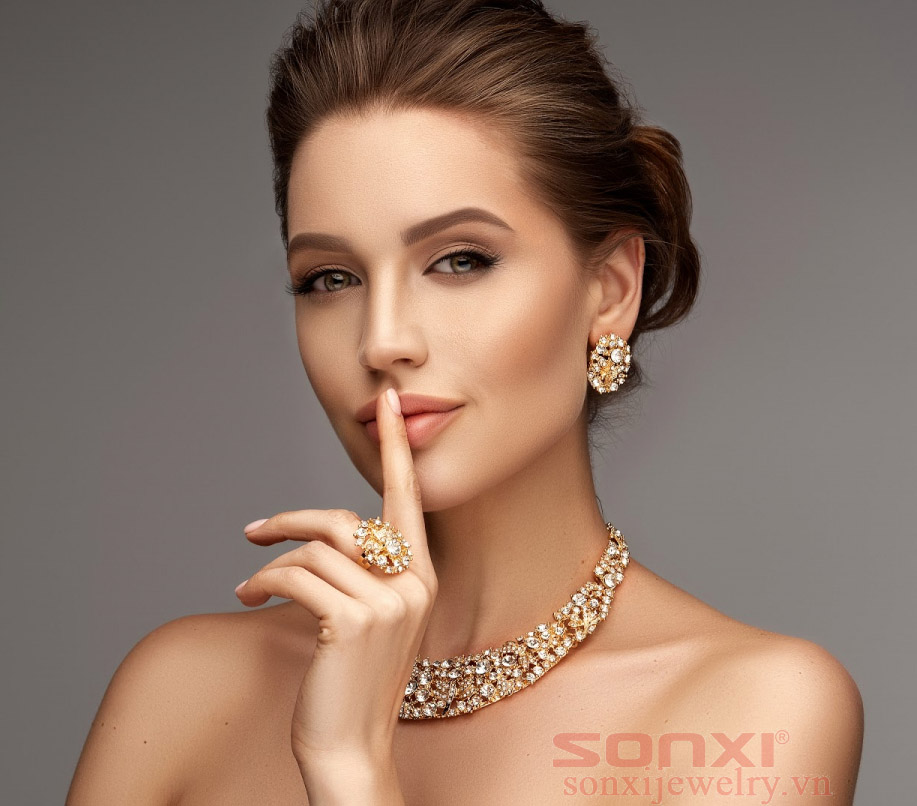 With the most complete and modern machinery and equipment available today, Sonxijewelry Plated Jewelry Manufacturing Company designs and manufactures many products, serving a wide range of audiences, whether young or old, male or female, are domestic or foreign guests. Popular plating products, high-end products, delicate compact designs or sharp lines are available at Sonxijewelry Company.
   Company We are always willing to meet the quality of plating to satisfy the needs of customers. Because quality is always the goal that we always aim for. The actual plated jewelry product is excellent, the value is commensurate with the price. These are completely self-designed and manufactured samples, our products are made in all stages at the factory. In addition, customers only need to have a ready-made sample or a drawing of the item they want, then we can completely rely on it to design jewelry according to customers' wishes
   Sonxijewelry is considered as one of the units that manufacture Plated Jewelry with achievements recognized by organizations as a major manufacturing brand in Ho Chi Minh City, Vietnam. Come to us, you will see a process. Professional production process, carefully checked from the department, each stage of the product. With the determination to bring customers the most delicate and classy jewelry, you will be completely satisfied when using products from our company SONXIjewelry.!
Sonxijewery Plated Jewelry Manufacturing Company's line of business Manufacture of Plated Jewelry, Manufacture of plating fashion accessories, Producing gold-plated accessories, Plating processing
Sonxijewelry recruiting Currently, with its growing development, Sonxijewelry Plated Jewelry Manufacturing Company is constantly in demand with many attractive job positions. This is considered a good opportunity for workers who are looking for a suitable job with the best working environment. Design Specialist Distribution channel manager Business management Digital marking
What is the salary, bonus and welfare policy?
Sonxijewelry Plating Jewelry Company has a competitive salary and welfare regime. The company always cares about the lives of its employees. Working at the company, you will receive a salary in accordance with your working capacity In addition, the Company regularly organizes training courses and seminars to improve working capacity and help employees complete their work most effectively. For inexperienced employees, training and guidance from industry experts will be provided
Contact Address
KIM HOAN SONXI MECHANICAL CO., LTD
Transaction office: 497/2 National Highway 1A, Binh Hung Hoa Ward, Binh Tan District, Ho Chi Minh City,Vietname
Factory: Lot LL 5A-LL6, Road No. 2, Xuyen A Industrial Park, My Hanh Bac Commune, Duc Hoa District, Long An Province, Vietname. 
            Phone: 028 66869909 - 0906396809, 0938596909, Zalo 0903024909.
            Email: sonxijewelry@gmail.com
            Web: sonxijewelry.com
Email: sonxicompany@gmail.com                      
Website: www.sonxi.vn
Branch:
226E/2 An Phu 17, An Phu Ward, Thuan An Town, Binh Duong,
Tel: 0938596909-0909089709
................................. ..............................
Lot C1-17, Road No. 3, Hoa Cam Industrial Park, Hoa Tho Tay Ward, Cam Le District, Da Nang City
Tel: 02366289797-0905322099